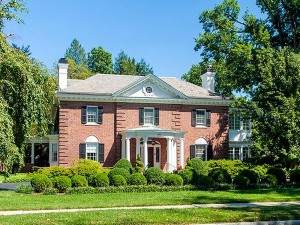 2014 Designers & Landscapers
Platinum Sponsor
The Martin Family
Silver Sponsors
Borden Perlman Salisbury & Kelly
Gloria Nilson & Co
Herspiegel ConsultingMeet Me
Mistras
Palmer Square Princeton
Princeton Scoop
The Durst Firm
The 2014 Designer Showhouse and Gardens: Holiday Edition was held at historic 159 Library Place.
The magnificent brick Georgian was designed by John Russell Pope, designer of The National Archives and Records Administration, the Jefferson Memorial and the West Building of the National Gallery of Art, among others.
Fifteen interior design spaces, as well as exterior lawn and garden areas, provided local designers and landscape architects unique opportunities to showcase the winter holidays celebrated, with a focus on creating festive, warm spaces inviting to family and friends. Designers and landscape architects this year included Ronni Hock, Michael Herold, Susan Taylor, Jeffrey Queripel, and Stewart von Oehsen, among others.
In addition to the new holiday theme, unique features of this Designer Showhouse included a Junior League Community Giving Tree, Pop-Up Art Gallery and Junior League-Past, Present & Future exhibit. The JLGP Community Giving Tree welcomed visitors as they enter the Showhouse. To help the League share its mission with the Greater Princeton community, the Giving Tree displayed ornaments, available for purchase, created by the children of our community program partners – The Cherry Tree Club Nursery School and Better Beginnings.
The Pop-Up Art Gallery featured works of local artists for sale.  A portion of each sale supported the league's mission and community projects.  The Junior League – Past, Present, Future exhibit gave guests a look into this venerable women's volunteer organization.  With more than 90 years of voluntarism behind it, the League continues its commitment to local women and children and looks ahead with great enthusiasm and expectation to the Centennial Celebration and beyond!
Also included in the Showhouse was a Holiday Cabana by Shelby Tewell and Jenn Brandt.  The cabana was featured in a room on the main floor of the Showhouse offering perfect ideas for your holiday gift giving.