Mrs. James S. Studdiford, II, 1953-1954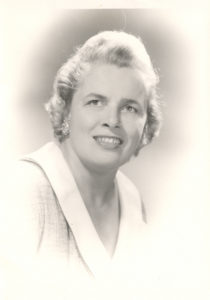 Year of Report: 1953-1954, 1954-1955
League Name:  The Junior League of Trenton
Board of Directors:
President Mrs. James S. Studdiford, II
VP Miss Louise McNiece
Rec. Sec. Miss Marjorie J. Smith
Cor. Sec. Mrs. John J. Grimes
Treasurer Mrs. Horace Woolverton
Community Partners:
Mercer County Child Guidance Center
Retarded Children
YWCA
Boys' Club
All Trenton hospitals
Impact Projects: Gave $7,500 for children with intellectual disabilities in the area. Scholarships to YWCA, Girl Scout, Campfire and Camp Delaware. Gave $1500 to Mercer Boys' Club and health clinic.
Showhouse: N/A
Membership:
120 Actives
30 Provisionals
71 Sustainers
24 Non-residents
Fundraisers: Bargain Box made $2000 and Christmas Dance made $799. Follies