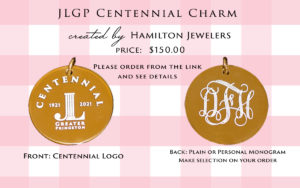 The Junior League of Greater Princeton has created a centennial charm for you to remember our 100 years. This charm is provided by Hamilton Jewelers.
If you would like to purchase a JLGP Centennial Charm, please click on the link below to make your purchase through Hamilton Jewelers. If you plan to attend the Centennial Tea on Tuesday, June 29th, we will have your charm available for pick up at that time. Please note that your order must be placed by Tuesday, June 1, for delivery at the tea.
If you do not plan to join the Centennial Tea, your order will be shipped complimentary to address provided.
Please Note:  Due to Hamilton's purchasing platform, your shipping address must be entered to process your order.
Click here to place your Centennial Charm order.
Cost: $150.00
Description of charm: The pendant is handcrafted 1" round sterling silver disc, 2 mm thick, with 18k yellow gold plating, laser engraving. One side is laser engraved with the Centennial logo and the other side you have the option to monogram your initials in script.
Hamilton Contact:
Diana Wilf: dwilf@hamiltonjewelers.com
Phone: (609) 558-0729