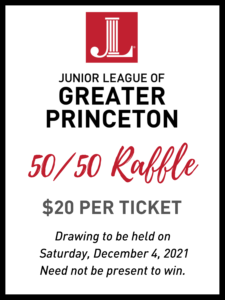 The Junior League of Greater Princeton will be hosting a 50/50 fundraiser this fall, with the winner receiving at least $4,000! 
50/50 Tickets will be $20 each, and will be sold at all JLGP events in October and November. 
The winning ticket will be pulled at the League's GMM on December 4th, 2021 at 10:00 AM. Come join in person, or watch the announcement of the winner via zoom! 
To learn more, please contact development@jlgp.org