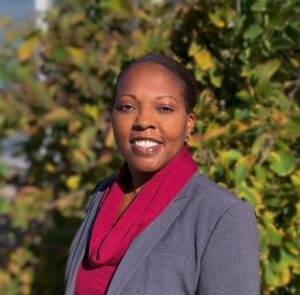 Tea Speaker: Kemi Alli, M.D.
Dr. Alli has served the Trenton community in New Jersey for over two decades. She has been the CEO of Henry J. Austin Health Center since 2015 where she previously served as Chief Medical Officer from 2008. She has been a Pediatrician with Henry J. Austin for over 20 years.
Dr. Alli has become a leader in the field of providing quality, integrated, and effective care. She has done countless webinars, speaking engagements and conference presentations across the country on healthcare systems improvement including topics on advanced access, integrated care, COVID, and telemedicine. She led several primary care enhancement initiatives to reduce health disparities, improve patient health outcomes and access to care for those most underserved. She is continuing to lead this transformative re-design of the health care delivery process at Henry J. Austin with a team of senior directors, implementing an integrated health care system including treatment for both substance use disorders and behavioral health care illnesses in the primary care medical home. She has participated in numerous advisory panels across the country most recently serving on the Health Resources and Services Administration, Workforce Well-being Technical Advisory Panel and on the NJ Department of Health's Coronavirus Professional Advisory Committee helping to guide the regulations for COVID testing and vaccination services for the state of New Jersey.
Dr. Alli is devoted to the Trenton community founding innovative organizations like the Trenton Health Team and serving on Boards like Thomas Edison State University, the Central Jersey Family Health Consortium, the New Jersey Primary Care Association, and the New Jersey Health Care Quality Institute. Throughout the years through all her work, Dr Alli's sole goal has been and continues to be, to help improve the quality of life for those that are disenfranchised and too often marginalized by our healthcare system.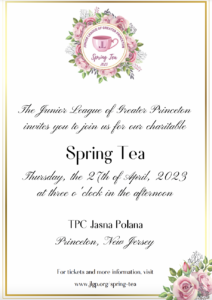 The Junior League of Greater Princeton (JLGP) Spring Tea returns to the iconic TPC Jasna Polana on Thursday, April 27th from 3:00 to 5:00 PM. Quickly becoming a signature event, this unique experience was in high demand last year and is sure to be coveted again. The 2023 Spring Tea will raise the bar with an enhanced guest experience and feature the chance to catch up with members, old and new.  It is also a great way to celebrate the JLGP's commitment to women's leadership development and impact on the community, as well as award our annual scholarships. The JLGP is proud to award scholarships to female seniors in high school who have demonstrated a strong commitment to academic excellence and volunteerism. 
As this year's largest fundraiser, the Spring Tea supports our mission, programs, and outreach, and allows us to continue our work of empowering women leaders and serving our community.
Be sure to get your tickets online today!
Click here to purchase tickets or sponsorships.
Click here to learn more about sponsorship opportunities for the Spring Tea.
If you have any questions about sponsorships, please contact Kiyana Richardson, the JLGP's Development Manager, by email at development@jlgp.org or phone at 609.256.1471, option #4.
Thank you to our generous sponsors who have made the 2023 Spring Tea a success:
Event Sponsors: Chubb and Genesis Hospitality
Chai Sponsors: Clouser Family, Kiyana N. Richardson, and The Switlik Foundation