Trunk or Treat
On Saturday, October 21st, the HomeFront will host a Fall Festival including a Trunk or Treat event sponsored by the Junior League of Greater Princeton. This fun-filled Halloween themed event will be held exclusively for the children and families of HomeFront from 10am-1pm in the parking lot of their Family Preservation Center in Ewing.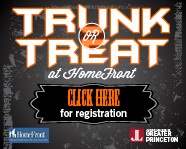 Groups and local businesses are invited to participate in the Trunk or Treat festivities. Not sure what trunk-or-treating is? Instead of children going from door to door to collect candy, they will go from trunk to trunk! Sponsoring a trunk will give you a wonderful opportunity to join other individuals, local businesses and non-profit organizations for an event that is sure to warm the hearts of all involved. More importantly, it will give the children of HomeFront the opportunity to enjoy some wholesome, autumnal fun in a safe environment. There will be crafts, activities, a costume parade and prizes. Please review the attached flyer for additional details. It promises to be a fun event!
Click the registration button if your company or organization is interested in providing a trunk!
Click here to download our flyer and help us spread the word!
Questions? Read our Trunk or Treat FAQ's (with corrected rain date Oct 22)
Would you like to make a donation to go towards the costs of this event?
Click here!
Need some inspiration for your trunk? Check out our
Trunk or Treat
Pinterest board!