2020-2021 Junior League of Greater Princeton Management Team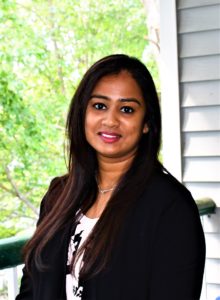 Finance Manager, Shilpa Anbalgan
Shilpa Anbalgan has been a member of the Junior League of Greater Princeton since 2017. Her league career positions involved membership roles in the Development team, currently serving her second consecutive year as a Finance Manager 2020-21. Outside the JLGP, Shilpa is a Biomedical Engineer with a Master of Technology degree in Digital Signal Processing from VTU, India. She started her career as Associate Professor teaching Electronics and communications in VTU-India, continued working on Technologies in Biometrics, Defense,Real Time Location projects with BHEL India and Veteran hospitals USA. Shilpa was born in Bangalore, India and moved to the USA in 2015 after marrying Sunil and currently lives in Lawrenceville.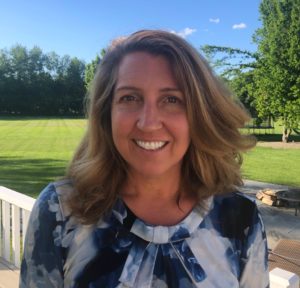 Community Manager, Deborah Vogel Brown
Deborah Vogel Brown has been a member of the JLGP since 2008. She has served on the Board as Financial VP, co-chaired the annual fundraiser The Artful Palate in its inaugural year, performed the role of Development VP as well as Grants & Scholarships Chair, and spent four years as a JLGP advisor. This year, she is reprising the role of Community Manager, a role she held during the 2019-2020 League year. Outside of the League, Deborah is VP, Product Development & Design for Nambe, a luxury home brand sold in major department and specialty stores both in the U.S. and abroad. Deborah holds a Bachelor of Science degree from Miami University and a Master of Arts from the University of Wisconsin-Madison. She lives in Robbinsville with her husband and two children.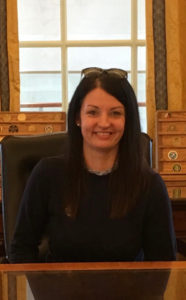 Membership Manager, Alaina DeWitt 
Alaina DeWitt joined the JLGP in 2016 and has served the league as a member of the Children's Committee, the Grants and Scholarships Committee, and as Admissions Chair. In 2019, she began her role as Membership Manager. In this position, Alaina worked to amend active member requirements, helped implement the Service-Learning Events initiative, and facilitated a redesign to the new member class. Professionally, Alaina has experience in both talent acquisition and vocational rehabilitation. Currently Alaina is a Client Service Director at FastTrack Return to Work Services, where she has been assisting individuals with disabilities transition into the workforce since 2015. Alaina received her Bachelor of Arts in Communication Studies from The College of New Jersey and her Employment Specialist Certification from Rutgers University. In addition to her work with the Junior League, Alaina sits on the Internal Affairs Committee for Alternatives Community Support Services and is active with the New Jersey State Federation of Women's Clubs "Girls Career Institute".
Development Manager, Kristen Prentice
Kristen is thrilled to be starting her second year as the Development Manager of the Junior League of Greater Princeton. Kristen is a graduate of The College of New Jersey, where she received her Bachelors in 2011 and Masters in 2012. Currently, she is a 7th grade Special Education teacher at the Montgomery Township School District, and she privately tutors. Kristen joined the JLGP in 2011 to become more actively involved in volunteering in her community and to make friends. Prior to joining the Junior League, Kristen was also involved in the Girl Scouts USA organization, where she is a lifetime achievement member. Kristen is looking forward to the exciting events of the Centennial League year.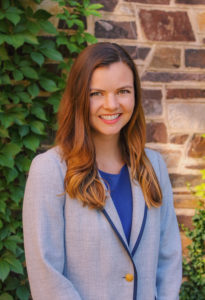 Communications Manager, Lizzie Salita
Lizzie Salita joined the Junior League of Greater Princeton in 2017 and has since served as Social Media Chair, Web Coordinator, and Communications Manager. She was named the League's 2018 "Woman to Watch". Lizzie has five years of professional experience as a software engineer, specializing in frontend web development for federal government clients. She is currently a Senior Lead Engineer for Booz Allen Hamilton, where she received a 2019 Values in Practice Award (the firm's highest individual honor). Lizzie grew up in Richmond, Virginia and studied computer science at William & Mary, graduating Phi Beta Kappa. Lizzie also enjoys painting, playing soccer, and volunteering as a Girls on the Run coach. She lives in Lawrenceville with her husband Michael, and they welcomed their first child in August 2020.