90th Anniversary Projects
To celebrate the 90th anniversary of the Junior League of Greater Princeton, a committee of current and sustaining members of the League chose two special ongoing community projects to initiate in our 90th year and continue into the future.
Capital Health Partnership, Capital Health, Hopewell, NJ
In the new hospital, there is a pediatric wing with a dedicated room for children's books and activities.   The JLGP was thrilled to be invited to decorate this area for the holidays, as well as provide books, toys and games for the library/activity room along with patient rooms.
On December 3, 2011, members of the League held a General Membership Meeting at the Hospital, decorated in the pediatric wing, and brought crafts and books to share with the children there.   We look forward to bringing small groups of volunteers into the hospital next year to continue visiting and entertaining the children there.
The Children's Initiative continues to organize volunteers to return to the hospital on the first Saturday in December to decorate and offer crafts and books for the patients.  We hope to continue this partnership into our 100th year!
Our thanks to the JLGP 90th Anniversary Committee, Arline Stephan, Executive Director of the Capital Health Foundation, Jessie Bessler, Director of Development and Heather A. Keller, Nurse Manager Pediatric Services, for making this wonderful opportunity possible!
Art for Healing, University Medical Center of Princeton at Plainsboro (UMCPP)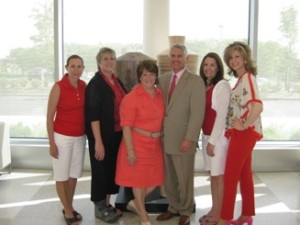 Art For Healing is a new JGLP committee that was formed to work in partnership with University Medical Center of Princeton at Plainsboro (UMCPP).  UMCPP has been designed around the concept of 'evidence based design'.  Studies show that certain kinds of art aid in the healing process and result in short hospital stays.  The artwork also benefits the caregivers by helping reduce stress and anxiety.
The initial project for the committee was to help the UMCPP with their Grand Opening functions by serving as docents and subject matter experts on a selected group of artists.  JLGP volunteers interviewed the artists, created a laminated summary sheet, and staffed the opening events to help inform the public about the significance of the art and information on the particular artists.  Our next project will be to create QR codes that hospital visitors can scan with their smart phones and link directly to artist information.
The AFH committee is comprised of both Active and Sustaining members, and welcomes any member who would like to join.
Contact Christine Gould, Bethanne Byrne or Karen Schnieder-Davis with questions.